Alliance High School celebrated the new all-turf softball field on Thursday with a Ribbon Cutting. The event drew in a number of families and community members who got a first look at the new field as the team played their first game on it.
\r\n
"Being able to cut the ribbon on our state-of-the-art, all-turf softball field was an awesome event," said Tim Goodman, athletic director. "Gathering the many people that contributed to the planning, development and construction of the field along with our student athletes and community supporters was truly special. Our girls sports programs have made tremendous improvements in recent years and being able to assist in their continued improvement is very important to us. At Alliance City Schools we are committed to providing our student athletes with a first-class experience. We are very excited about where we're at and where we plan to be."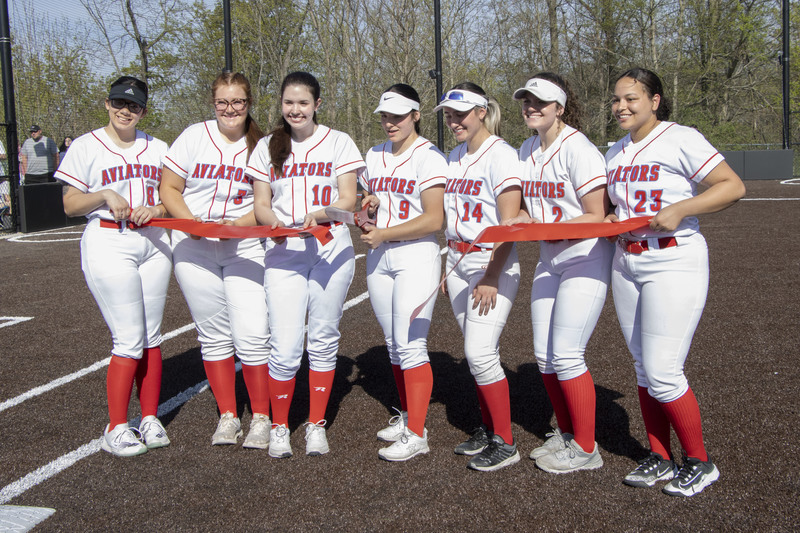 \r\n
The celebration was made all the more special knowing some of the construction trade seniors had a hand in building the softball field. Six seniors in the class were hired by SCG Fields to work on installing the new all-turf baseball and softball fields. Ke'Sean Kilgore took part in the ribbon cutting as a representative for the group.
\r\n
Present at the ceremony were members of the Alliance City Schools Board of Education and members of the Alliance High School and Alliance City Schools administration.
\r\n
Following the ceremony, the Aviators played Salem High School and won with a score of 8-3.
\r\n
The updates to the softball field were paid for with ESSER funds the district received.