Tonight's boys soccer match at Akron Ellet has been postponed until October 13th.

Tonight's Varsity Girls Soccer game vs Salem will start @ 5pm with the JV to follow.

Thursday's 9th grade football game against West Branch has been cancelled.

Tonight's Girls Tennis Match at Marlington has been cancelled.

AHS/AMS cross country will be at Malone today at 11:00. Good luck!

Girls golf will be at the stark county tournament at Pleasant View at 9:90.

Sporting events 9/24/2016: Boys golf will travel to the Stark County Invitational at 8:00. JV football vs Canton South at 10:00. Boys soccer vs East Palestine at 11:00.

The AMS 7th & 8th Grade Football Games vs West Branch next week have been moved to separate days. The 7th grade will play at West Branch on the original date and time which is 9/27 starting at 5pm. The 8th grade game has been moved to Wednesday 9/28 starting at 5pm. Both games will take place at West Branch middle school.

The Girls Golf Senior Night has been changed to this Wednesday at 3:15pm vs Beaver Local at Sleepy Hollow Golf Course.

There is an admission charge of $5.00 for Adults and $2.00 for students for all Freshman football games home and away.

Tonight's boys soccer game has been canceled! As soon as it is rescheduled we will let you know.

Support Our Sports: Good luck to all athletes competing today. Go Aviators! AMS/AHS cross country will travel to Wooster. AHS girls soccer will travel Akron Springfield at 1:00. AHS boys varsity soccer will take on Coventry at 6:00.

Follow live football scores on the Alliance City Schools app. Search Alliance City Schools on your App Store!

​Varsity girls soccer invites you to Daddy-Daughter night. Click the flyer for more information.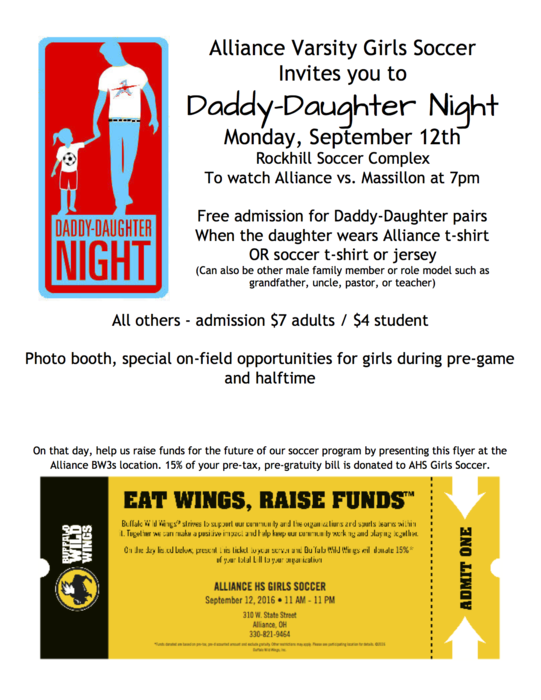 Good luck to the 7/8th golf team as they take on Carrollton today at 4:00. Go Aviators!

Support Our Sports: AMS/AHS cross country @ Marlington Varsity girls cross country @ Marlington. JV football @ Canfield @ 10 Varsity girls volleyball @ Southeast @ 10

Good luck to the varsity football team as they take on Canfield tonight at 7:00! Go Aviators!

Support Our Sports: AHS boys golf vs South @ 4 Varsity girls tennis @ Triway @ 4:15 AHS girls golf vs Fairless/Minerva @ 4 Freshman football @ Canfield @ 5 Boys varsity soccer vs Washington HS @ 5 JV/Varsity volleyball @ Minerva @ 5 and 6

Support Our Sports: Girls golf vs Louisville @ 4 AHS Boys golf vs Marlington @ 4 Girls tennis @ Canton South @ 4 7/8th football @ Canfield @ 5 7/8th volleyball @ Louisville @ 5 & 6 Girls V. Soccer vs Louisville @ 7