Alliance Youth Football and Cheer Sign Ups are this Saturday! #RepthatA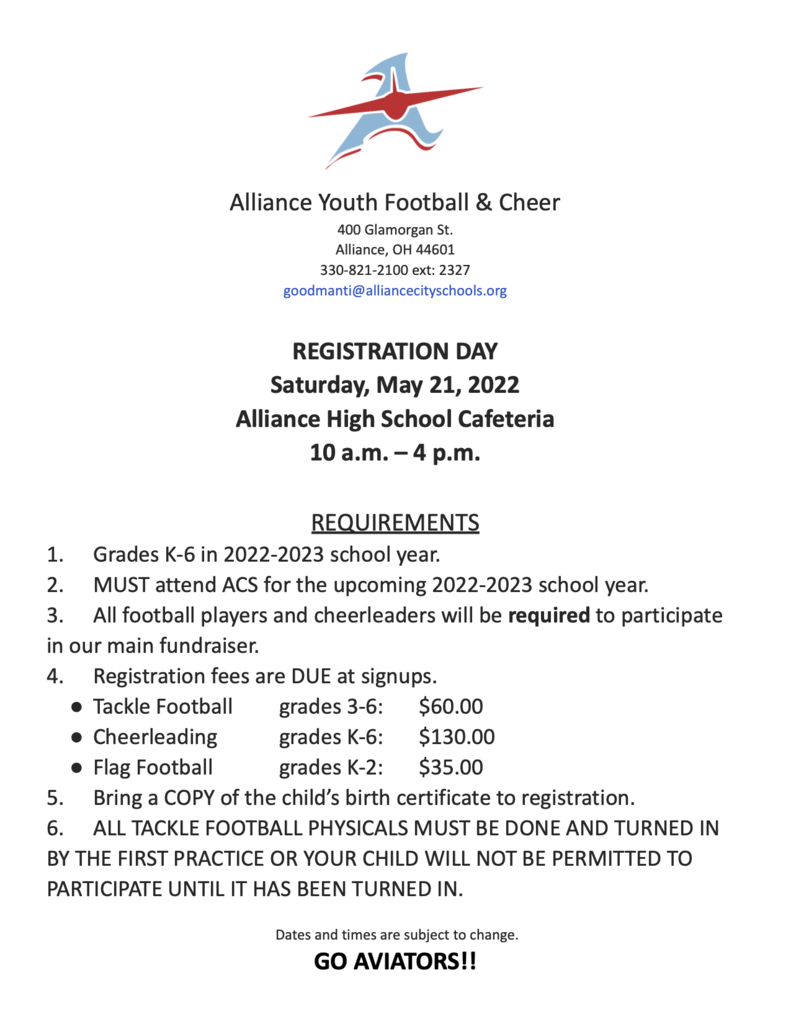 Today's Varsity Softball game at Columbiana is cancelled.

The JV softball game vs. Salem tomorrow, Friday, 5/13 has been cancelled.

Varsity Baseball on Saturday, May 14th vs. Ravenna has been changed to only a single game. It will still start at 10am at Mount Union's baseball field.

Save the Date! - AHS Spring Sports Awards Night is on THURSDAY, May 26th - this was wrong on some earlier publications so make sure you have the correct night saved on your calendar.

JV Softball @ West Branch on Friday, May 13th is cancelled. JV Softball vs. Salem on Thursday, May 12th has been moved to Friday, May 13th, still 5pm, still at Early Hill.

JV Baseball @ Marlington on 5/18 is cancelled. JV will now host Lake at AHS at 5pm that night instead.

The Varsity Baseball doubleheader vs. Ravenna on Saturday, 5/14 has been moved up to start at 10am and has been moved to Mount Union's baseball field.

Baseball additions: Friday, May 13th Varsity home vs. Heartland Christian - 5pm Monday, May 16th Varsity @ Field - 5pm (2900 OH-43, Mogadore 44260) JV home vs. Field - 5pm

Softball changes: 5/11-JV DH cancelled 5/12-Varsity vs. Salem moved to 5/13 5/14-Varsity DH @ Western Reserve added 11am/1pm

A JV softball game at West Branch has been added for 5pm on Friday, May 13th.

-Tonight's JV Softball game vs. West Branch is cancelled. -Varsity Softball AT West Branch will start at 4:30pm.

Baseball Updates -Varsity will host an OHSAA sectional game at home on 5/17 vs. Nordonia at 5pm. An OHSAA ticket is required for entry to this game. -JV vs. Marlington on 5/17 will now be played at Butler Rodman at 5pm. -Varsity/JV games @ Benedictine on 5/16 are cancelled.

The boys tennis match at Orrville tonight is cancelled and will not be made up.

Baseball Updates: Today's games (Minerva) are cancelled Makeup dates from today and Tuesday's cancelled games are: Monday, May 9th Varsity @ Minerva JV vs. Minerva Thursday, May 12th (replaces Howland games) JV @ Minerva Varsity vs. Minerva

Today's softball games at West Branch are cancelled and moved to Monday, May 9th. JV will play home at the AHS Field at 5pm, Varsity will play at WB at 5pm. Tomorrow's JV softball double header vs. Field is cancelled. A makeup date is TBD.

5/7- JV Softball's doubleheader vs. Field will be played at the AHS Field and not Early Hill. 5/14- JV Softball will have a doubleheader at Early Hill. 11am game vs. Marlington, 1pm game vs. West Branch

Today's JV Baseball game at GlenOak will start at 5:30pm.

Today's Varsity Softball game vs. Marlington has been moved to Sportzone. It will still start at 5pm. JV Softball's game is cancelled.

Softball Changes: Tomorrow, 5/5 Varsity at Carrollton will start at 4:30pm. 5/16 Varsity only will go to Columbiana for a 5pm start.