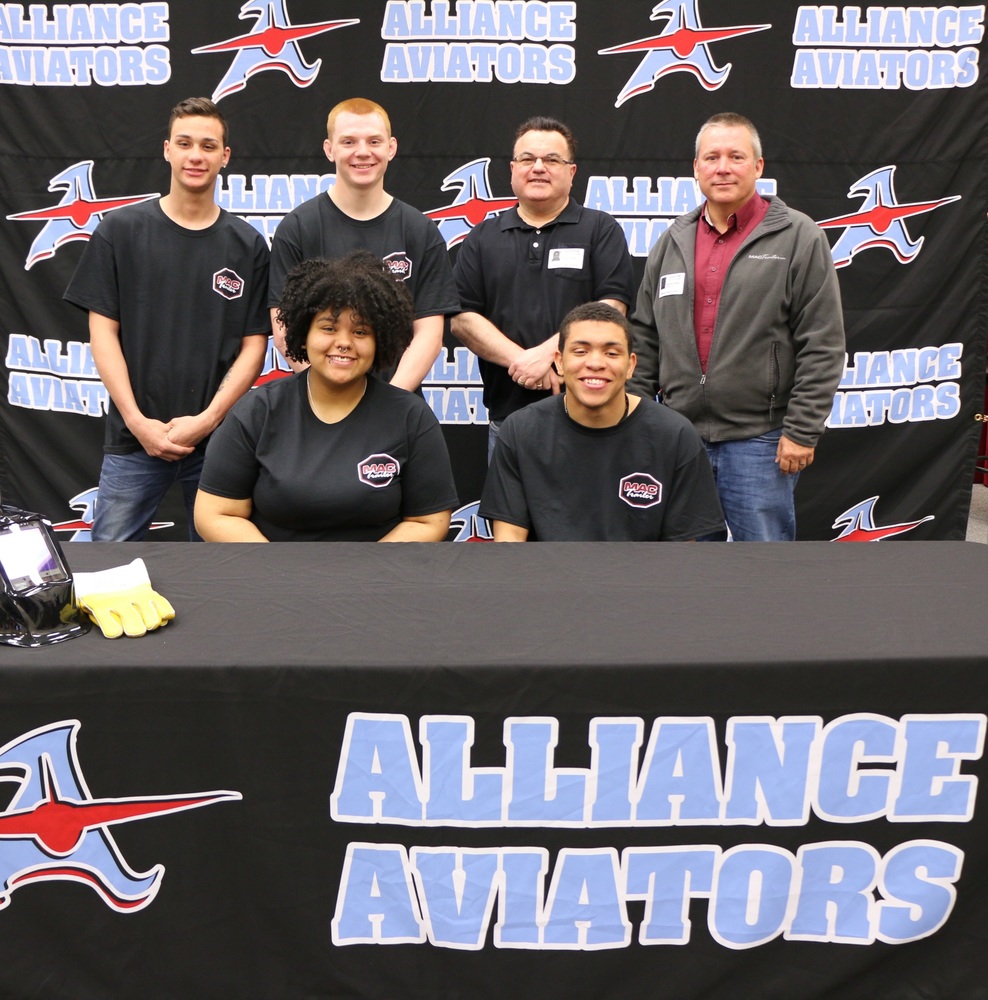 Seniors sign with MAC Trailer
Chelsea Shar
Friday, May 11, 2018
Four students from Alliance High School signed letters of intention to work with MAC Trailer upon graduation at the end of the month at the first Career Tech job-signing event.
Some of the students have been working with MAC Trailer during their studies in the Career Tech welding program at Alliance High School.
Alex Kurpil, Korryn Jackson, Cole George and Marvin Napier all signed a Career Tech Commitment to MAC Trailer in front of family, classmates, Dennis Postiy, Corporate Vice President and Gary Conny, Director of Organizational Development at MAC Trailer.
The welding program partners with MAC Trailer to couple hard-working students ready to work after graduation with jobs that can turn into careers at MAC Trailer.
Gary Conny said the company has many well-paying jobs available right here in Alliance and the company works with the Alliance Career Tech program and Stark State College to provide further education for their employees. The company is hoping to recruit more skilled workers from the Career Tech program each year.
"We want to give a shout out to you Aviators, when we come to Alliance the students are always respectful and well-prepared," he said.
Postiy added that MAC Trailer is a great option for high school seniors to get into a job they can make a career right out of high school.
"We are a large, growing employer and there is a lot of opportunity at MAC Trailer," he said.
Students signed an agreement that they would be positive, show up, work hard, get along, pay it forward, be flexible, figure out solutions to problems, join the MAC Trailer club by representing its values, they will not whine and keep learning.
Students start their full time work as early as May 29. Some are already employed by the company part time.
Assistant Superintendent Rob Gress said the students are an example of how Alliance Schools are preparing students to be the workforce America needs moving forward.
Between 40 and 50 percent of Alliance High School students are a part of Career Tech programs in a given year.
High School Principal Shawn Jackson said the group of students signing to jobs are trailblazers for those who will come after them.
"You are trailblazers because you are inspiring others by giving them hope that they can do what you are doing. I appreciate what you are doing and you are showing others this is a career you can do," he said.
Students who signed with MAC Trailer include:
Alex Kurpil - Alex will be working for MAC welding and building trailers. He hopes to someday become an underwater welder and is currently in the Ohio Army National Guard. He thanks his family and friends for their support.
Korryn Jackson - Korryn will be building trailers at MAC and hopes to work for a good company and enjoy her job. She is the recipient of an AllianceWorks scholarship which will pay for all of her tuition to attend Stark State College.
"I'd like to thank my grandma for taking care of me and helping me get through all the obstacles I've had to overcome. And all of my teachers for helping me and pushing me through the years, and lastly, Mr. Fuson for always believing in me," she said.
Cole George - Cole will be working to weld and fabricate at MAC Trailer. He hopes to work towards higher certifications and was the April 2018 employee of the Month at Mac Trailer. He thanks Mr. Fuson, the welding instructor at AHS.
Marvin Napier - Marvin will be working on framing at MAC Trailer. He is a member of the Ohio National Guard and hopes to stay employed at MAC Trailer for as long as possible. He also plans to attend Stark State College to study welding and will be completing his AIT this summer.
"I would like to thank Mr. Fuson for the schooling and career help and would like to thank my mother for always being there and being supportive," he said.
Congratulations to the all four students. You make AHS proud!